Philadelphia, PA : connecting Philly residents to each other, resources, & community
| In 2017, the Philadelphia League of Creative Interventionists facilitated discourse in public spaces through open meetings and interactive art projects. Believing that a social art practice can lead to breakthroughs in ideas, reshape world views, and inspire creative problem solving in civic life. |
League Fellows: Stephanie Barrale, Miguel Huerta, Dave Ramsey, and Celeste Sumo
Stephanie Barrale
Stephanie Barrale studied painting and drawing at the Pennsylvania Academy of the Fine Arts. Since graduating in 2012, she has cultivated a collaborative art practice that draws inspiration from radical social change and self-determination movements. She played an integral role on Philadelphia's first major fresco and is a collaborative paper & zine maker. She can also be found organizing volunteers & events, reading on her front porch, dancing or going for runs in the cemetery.
Miguel Huerta
Miguel Huerta wandered east to Philadelphia from Denver, Colorado where he was born and raised. This Chicano social worker, spoken word artist, and community organizer is currently working on several projects synthesizing art and social action. Miguel is currently a Post-Secondary Coordinator at YouthBuild Philadelphia Charter School where he has the pleasure of working with a passionate team to innovate on career pathways and advancement for the resilient alumni of YouthBuild.
Miguel attained a Masters of Social Work from the University of Pennsylvania with a focus on nonprofit management and community organizing. He is the co-founder of the artist and activist collective, Get Lucid!, founding board member of the youth leadership program, Move Mountains Project in San Luis, Colorado, and Communications Manager for the Philadelphia Chapter of the Creative Interventionists. This poet aspires to catalyze self­-empowerment and community action through art and an understanding of human heritage.
Dave Ramsey
Dave is a Temple University Graduate with a BA in Jazz Trumpet. He freestyle raps about politics and has been in Philadelphia, since 1999. He has worked with several politically minded community artist groups while living in South Philly and is inspired to bring artists together to spark conversations with strangers and friends.
Celeste Sumo
Celeste Sumo is a graduate of Temple University with a degree in American Studies and History. Her initial goal after college was to pursue a career in museum curation, however, after traveling around America doing community service and volunteerism she found her real passion in social action and community organization. She loves team building activities and making new friends. In her spare time, Celeste can be found hula hooping in her backyard, hanging out at the public library, and becoming the social activist she always wanted to be.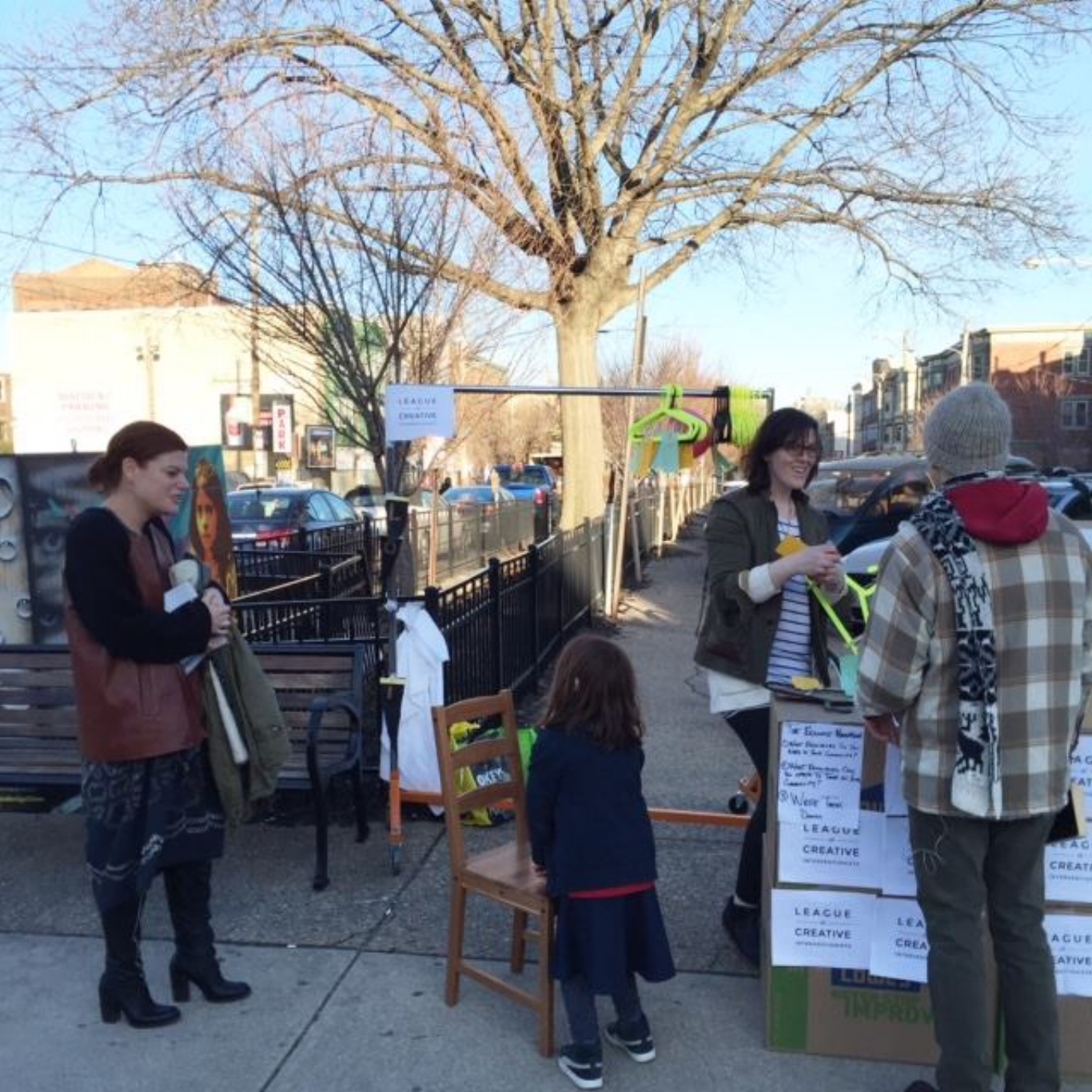 | A RESOURCE MARKETPLACE, WHERE THAT INVITED PARTICIPANTS TO SHARE A NEED & A RESOURCE, IN HOPES OF MATCHING THE TWO TOGETHER TO STRENGTHEN COMMUNITY COMMUNICATION AND DRIVE THE COMPLETION OF PHYSICAL PROJECTS. |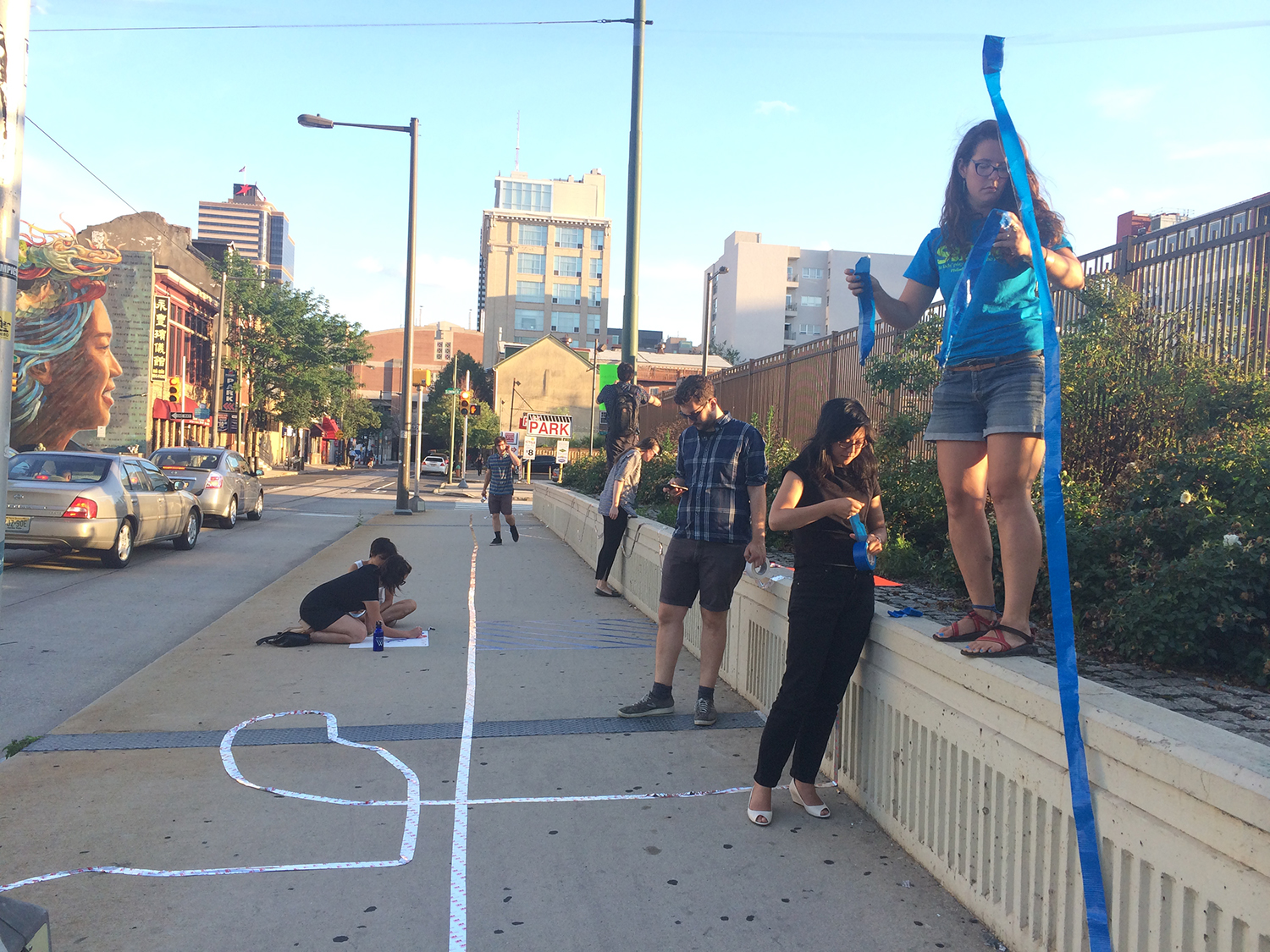 | A STRETCH OF SIDEWALK COMPLETE WITH HOPSCOTCH, A DANCE STATION, STREAMERS, AND SIGNS ENCOURAGING PEOPLE TO SLOW DOWN. |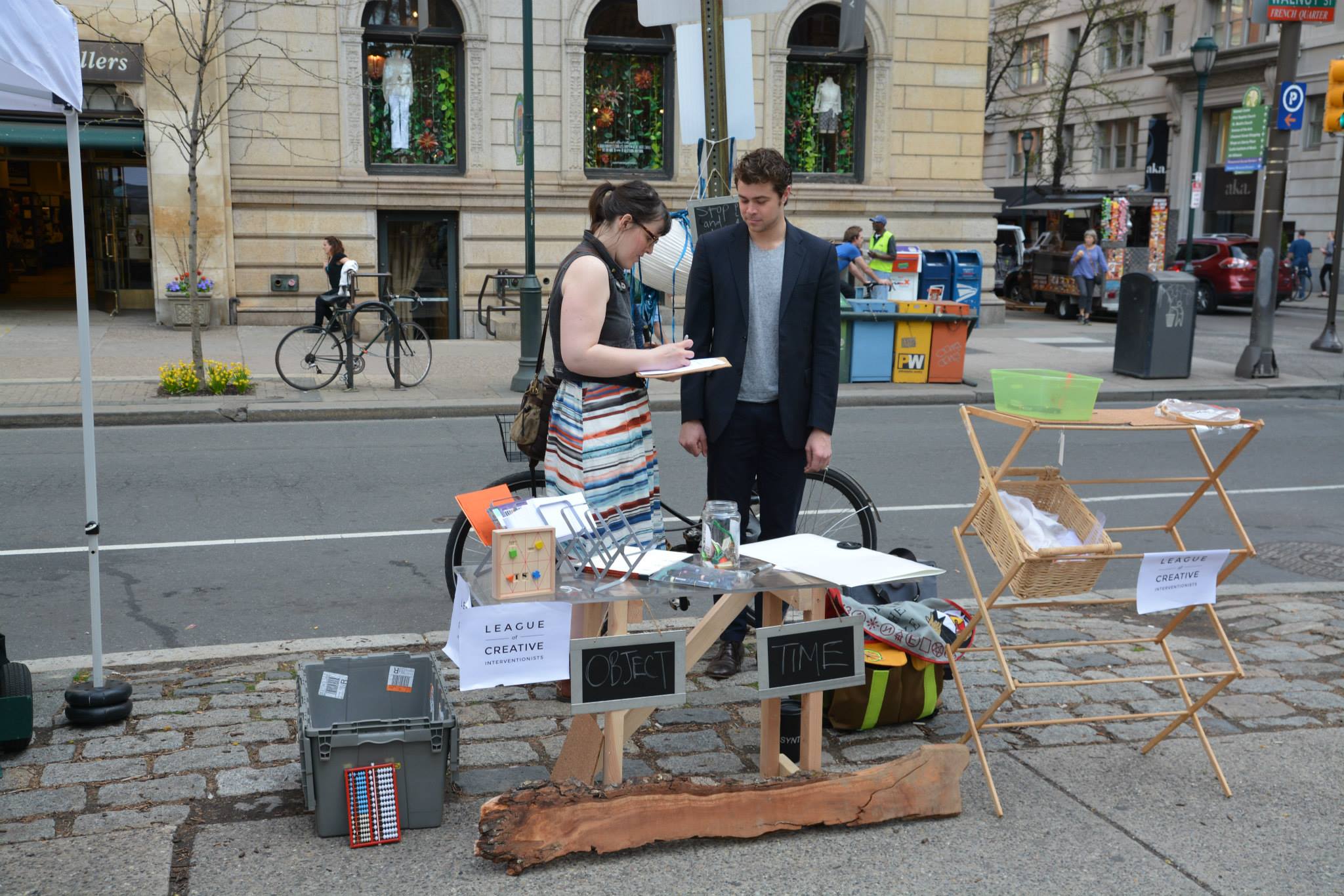 | A COMMUNITY TIME CAPSULE FILLED WITH SPECIMENS, OBJECTS, AND STORIES. |